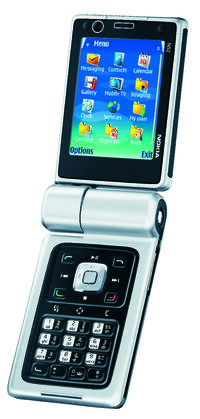 The Nokia N92 mobile phone is one of the Nseries mobile phones from Nokia. It is Nokia's first ever dedicated mobile television device.
Specification
Edit
Manufacturer: Nokia
Type: Smartphone
Connectivity: GSM/GPRS/EDGE (900/1800/1900), WCDMA (2100), Wi-Fi 802.11b/g, Bluetooth 2.0, UPnP (Universal Plug and Play), Infrared and USB 2.0
First available: Mid 2006.
Camera: 2 Megapixels
Memory card: miniSD up to 2 GB
Screen: 2.8 inch 240x320 pixels 16 million colour main screen, second external screen 65K colors, 128x36 pixels
Weight: 191g
Size: 107 x 58 x 25 mm
The keypad is unusual as it has numbers viewable in both portrait and landscape modes. This is to accommodate for the screen, which can be opened in two different positions:
Horizontal "clamshell"-like opening (like the Nokia 9300)
Open, twist then fold (like the Nokia N93)
Because of its unusual keypad, some users refer to it as confusing.
Digital TV
Edit
With the integrated DVB-H (Digital Video Broadcasting for Handsets) receiver it is possible to watch television on the Template:Convert screen of the phone. Interesting features of the handset include the program guide and the recording facility. The phone has a constant 30 second rolling record function for instant replay and can record broadcasts to memory card. Providers may charge for some of these features.
External links
Edit