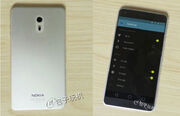 As Nokia fan with this news I was delighted since appeared pictures where we can really see how will look Nokia C1, which will use the Android operating system. On a single image we can see how phone looks from the front and rear. In addition, if you may not know, the Nokia can not produce their own devices before 2016 because it has been agreed in the agreement with Microsoft.
So logically speaking the earliest we can see the Nokia C1 is in 2016 year. Now according to available information this phone should have a 5 inch screen, 2GB of RAM and an Intel processor. I deeply hope that it will still be much stronger because even some Chinese phones already have 3GB of RAM for example.
Ad blocker interference detected!
Wikia is a free-to-use site that makes money from advertising. We have a modified experience for viewers using ad blockers

Wikia is not accessible if you've made further modifications. Remove the custom ad blocker rule(s) and the page will load as expected.