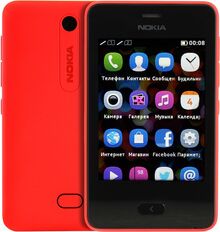 The Nokia Asha 501 is a lowend smartphone in the Nokia Asha series. It was the first device to use the Asha software platform which builds upon the Nokia Series 40 platform used in earlier feature phones. The device comes with either single-sim or dual-sim capabilities.
No Whatsapp. Seriously!
Comes with EA games gift, Camera 5-in1, The Weather Channel andReal Football 2013. Other available apps are Facebook, Twitter, Lumina and WeChat.
Display size: 3"
Display resolution: 320x240
Display technology: LCD transmissive
Touch: Capacitive two-point touch
Sensor size: 3.2 MP
Resolution: 2048 x 1536 pixels
Digital zoom: 3x
Video resolution: 320x240
Video frame rate 15fps
Proximity sensor and accelerometer which powers telemetric apps like Intellitools.
Connectivity
Edit
Wifi, Bluetooth, USB 2.0, GSM
Ad blocker interference detected!
Wikia is a free-to-use site that makes money from advertising. We have a modified experience for viewers using ad blockers

Wikia is not accessible if you've made further modifications. Remove the custom ad blocker rule(s) and the page will load as expected.