The Nokia 5800 XpressMusic is a smartphone and portable entertainment device by Nokia.[1] It was introduced on October 2, 2008[2] and released on November 27, 2008.[3] Code-named "Tube", it is the first touchscreen-equipped S60 device by Nokia. It's part of the XpressMusic series of phones, which emphasizes music and multimedia playback. The touchscreen features tactile feedback (though it does not use Nokia's Haptikos technology.)[4].
The 5800 has a compatibility mode for Java applications that are not touchscreen-aware. It works by using part of the screen for displaying the essential buttons required by the program.
On January 23, 2009, Nokia announced it had shipped the millionth 5800 XpressMusic device, even though it still had not been fully released worldwide.[5] In Nokia's Q1 report released on April 16, 2009 it was announced they had shipped 2.6 million units during the quarter, with cumulative shipments of more than 3 million units since the smartphone's launch in late November 2008.[6] Q2 results released July 16, 2009 reports 3.7 million units shipped during the quarter and more than 6.8 million units total have shipped since the release.[7] As of November 2009, over 8 million units had been sold.[8]
From firmware V20.0.012 onwards, the 5800's CPU clock was increased from 369 MHz to 434 MHz matching the N97 specification[9]. However, improved overall performance can be observed from firmware V30. On January 13, 2010, Nokia released a major firmware update, version 40.0.005. The update includes bug fixes, speed improvements and new features. The most visible are kinetic scrolling to all menus except the main menu and the applications menu, and an improved home screen, which was first introduced on the Nokia 5530. The new home screen provides a contacts carousel, with up to 20 contacts and program short cuts on screen at the same time. On April 19th 2010, another firmware ( v50.0.005 ) was released to some countries which is still waiting to be released everywhere else in the world. This new major update brought some new goodies just like that in the Nokia n97/n97mini(and Nokia x6) v20/21 like a new Web browser(v7.2) with full kinetic scrolling and auto-full screen while browsing the web; a new music player with mini-album art in the song list and the album list, initial alphabets of the track titles while scrolling using the scroll-bar (note: because of this the search feature is removed from the player); a new application - "Ovi sync"; music store is renamed as "Ovi music" and the interface in revamped; Quick Office v4.2.374 is integrated now (full free license); Search application's icon has changed; and a few more minor updates for better touch sensitivity and tweaks for faster operation of the phone.
The Nokia 5800 XpressMusic is not the first touchscreen device in Nokia's range. In 2004, the Nokia 7700 was announced, a Nokia Series 90 device that was cancelled before it reached the market. This was followed by the Nokia 7710 which was an upgraded version of the 7700, which became available during 2005. Nokia also produced the UIQ-based Nokia 6708 phone in 2005, but this was not an in-house development and was bought in from Taiwanese manufacturer BenQ.[10] Nokia have also produced a range of Maemo-based Internet Tablets which have a touchscreen interface, but are not mobile phones by themselves (one can connect and use a phone via Bluetooth). The 5800 is, however, Nokia's first Symbian S60 touchscreen device.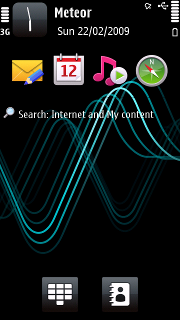 The launch of the 5800 XpressMusic in October 2008 was followed-up with the announcement of the Nokia N97[11] in December 2008, followed by the Series 40 based Nokia 6208c in January 2009[12].
In early February 2009 the website Mobile-Review.com, which was initially very enthusiastic about the handset, published its research and concluded that the Nokia 5800 had a design flaw. Specifically, when phones were used on a daily basis, their earpieces, produced for Nokia under contract by a third party, would cease to function in a very short time. Repairs performed under warranty would only temporarily fix the problem. The defect was found to be in the earpiece design. Nokia's public relations department had admitted that the Nokia 5800 XpressMusic contained a design defect. According to Nokia, they switched to another earpiece manufacturer, so all 5800's produced during February 2009 or later should be free from defect, with previously produced earpieces eligible for free warranty repair. New earpiece parts have also been supplied to Nokia service centers and future phone repairs should permanently fix the defect.[13]
On April 17, 2009 DigiTimes reported that Nokia had planned to release the Nokia 5800 with an induction display instead of a resistive one, which is used in the original model. According to Mobile-Review.com, the induction display is believed to be more fit for thumb operation when a stylus is not used. The upgraded model was expected to ship in May or June 2009.[14] In mid-May 2009, DigiTimes wrote that the new induction sensor screen components for Nokia were about to be produced by Synaptics. On 24 April 2009, this rumor was put to rest by Nokia; "we're not changing the hardware of the Nokia 5800 XpressMusic".[15]
On 21 August 2009, Nokia announced a new variant named Nokia 5800 Navigation Edition. In addition to the normal Nokia 5800 it has the latest version of Ovi Maps pre-installed. It also comes with a car-charger and car-kit inside the box because of the battery it consumes. Both the Nokia 5800 XpressMusic and the 5800 Navigation edition, however, have free lifetime navigation, due to the new version of Ovi maps. [16] It is now available at nokia.com.[17]
Marketing
Edit
A prototype of this handset was seen in the 2008 Batman movie, The Dark Knight and a number of music videos such as Christina Aguilera's "Keeps Gettin' Better", "Womanizer" by Britney Spears, Flo Rida's "Right Round", Pitbull's "Shut It Down", The Pussycat Dolls' "Jai Ho!" and "Hush Hush", Katy Perry's "Waking Up In Vegas" and Cobra Starship's "Good Girls Go Bad". The phone has received generally positive reviews, with UK phone magazine Mobile Choice awarding it a full 5 stars in its January 7, 2009 issue.[18]
Availability
Edit
Nokia announced the 5800 XpressMusic in London on October 2, 2008. The suggested retail price was €279 before taxes and network subsidies. The phone was made available Q4 2008 in Finland and other markets, specifically in Hong Kong, India, Indonesia, Malaysia, Pakistan, Russia, Spain, Taiwan, Thailand, Ukraine and United Arab Emirates. The phone missed the Christmas sales in more matured markets Template:Dubious. Nokia has only commented that it needs time to customize the phone's software for operators in other markets. Analysts speculated the delay as a business manoeuvre not to butcher its existing product portfolio sales for Christmas as the phone is very competitively priced. The phone hit the rest of Europe in early 2009. The European version was available for United States customers on December 14[19], an North American version was released on February 26 and was briefly pulled soon after due to customers reporting 3G reception issues. It was put back on sale on March 14 after the firmware was updated to fix the issue[20]. It was released in Australia on the 20th of March 2009.
The phone made its worldwide debut in several countries including Russia, Pakistan, Spain, India, Hong Kong, Taiwan, Finland on November 27, 2008.[21] The final pricing of the Nokia 5800 caused outrage amongst Nokia fans on several Internet forums, as it was a 33% increase from the original estimated retail price of €279 (due to the fact that Hong Kong does not have VAT as of 2008, and that the mobile phone doesn't come with Nokia's Comes With Music Service since it hasn't been launched in Hong Kong yet). In Russia it was priced at 14,990 rubles (€350) at the launch without Nokia's Comes With Music Service. This however changed on a wider launch a couple days later, when it started going for US$350[19].When The phone made it debut in Pakistan it was priced Rs 23000 / $378.Nokia 5800 finally made its debut in Malaysia on Friday, 9 January 2009 after it was first announced in October 2008. The device retails for MYR 1499. Nokia threw a party at Pavilion to officiate the release. The phone is already available in India, released on 8 January 2009 by brand ambassador Priyanka Chopra for a retail price of (inclusive of all taxes + VAT) Rs. 19,999(Recently reduced to Rs. 14,059). Its available in the Philippines last January 10 for Php.19,990 (now 15,990 for the complete version and 14,000 for the basic pakage - minus A/V cable, stand, extra stylus and rubber casing). The official release date in Sweden is February 16. It's available in Vietnam as of January 5 for VND.6.700.000, about 385 USD, one of the lowest prices. The phone will be available in Thailand on February 28, 2009 for Thb. 13,520. The United Kingdom launch was January 23, 2009 and the price was £249.99.[22] The 5800 was announced by Nokia in South Africa during early February 2009. It had an initial price of R5,559.00, or approximately US$570 on the Vodacom network, according to their February 2009 brochure, making it one of the highest priced in the world. Template:Citation needed It was released in Bangladesh on the 27th of January. It was released on Rogers Communications in Canada in June 2009. Because of laws about WIPI, it is released on Korea at late November 2009.Also Available in Bangladesh for BDT 23500 or approx.USD 341 (Now reduced to BDT 22400 or approx. USD 325 for the basic package - minus A/V cable, stand, extra stylus and rubber casing)
Price Drops
Edit
The price reductions of the Nokia 5800 XpressMusic have resulted in some changes to the standard package/features.
Video-out cable is removed. (Functionality is missing only for phones manufactured in Sep'09 in India)
Additional stylus is removed
Pouch is removed.
Stand is removed (only on some markets).
(However in India, regardless of all these removed, Nokia in the standard package offers a free Sennheiser headphones worth $55)
Specifications
Edit
Nokia 5800 XpressMusic has the following specifications:
Keys and input method
Edit
Stylus, plectrum and finger touch support for text input and user interface control (alphanumeric keypad, full and mini qwerty keyboard, handwriting recognition)
Dedicated Media Bar touch key for access to music, gallery, share on-line, Video Centre and web browser
Physical keys for application launch key (menu key), send & end, power, camera, lock, volume up & down.
Software
Edit
See also
Edit
Cite error: <ref> tags exist, but no <references/> tag was found